CrossFTP - OpenStack Swift & Rackspace Client
CrossFTP Pro/Enterprise is a powerful OpenStack Swift & Rackspace US client. It helps to do uploads, downloads, backups, site to site data migration, schedules, and synchronize Rackspace blob storage with ease.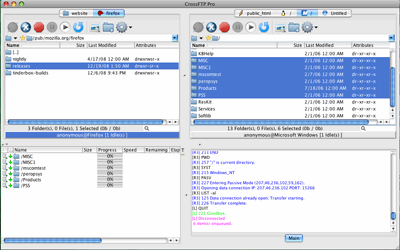 Key features:

How to ...
Connect to OpenStack Swift
See this article for details (link).
Create a Container
Each of the files and folders stored in Rackspace is contained in a container. It's like "top level folder" or "top level drive".
To create a container in CrossFTP, just go to the root folder \, and choose Create a new Folder. That top level folder represents a container.
Encryption
Client Side Encryption - this can be enabled for all uploads by Sites -> Site Manager -> Security -> Local Encryption for File Transfer -> Enable encryption. For more details, see this page.
Compression
GZip based data compression is supported, just choose Sites -> Site Manager ->Options -> Data Compression. After that, all files upoads for this site will be automatically compressed. In the log window, you should be able to find the messages like "GZip Compressed". In the Metadata file, you should be able to find key "crossftp-compression", and value "gzip". The download process will automatically uncompress the files.
URLs
You can generate all types of URLs by right click on the objects, choose URL..., and press Generate. It can used to generate the normal URL and paths

MultiUpload
Large files can be uploaded in parallel by the Multipart upload feature in Azure. You can setup the part size at Tools -> Global Options -> S3/Glacier/Azure -> Multiupload Part Size.
Direct Rackspace to Rackspace Copy
If you want to copy files from one Rackspace location to another Rackspace location, or account, without passing through the local computer, you can simply open the source and target Rackspace location on the left and right panels respectively, and do the transfer. All files will be copied directly on the Rackspace server side.