CrossFTP Server is a secure enabled professional FTP Server. It supports GUI configuration, monitoring, and more.
Want the server to server FTP (FXP) transfer? Check CrossFTP Client.
CrossFTP Server is a secure enabled FTP Server for multiple platforms. It offers a high-performance, easy configurable, and most of all a secure enabled FTP server. Versatile GUI is provided for the novice users' start-up, and the advanced users' configuration as well.
Want the commercial support? Learn more about commercial support and get it .
Here lists some of its main features:
Features
Free, open-source FTP server.
Multi platform support and multithreaded design.
UTF-8 directory encoding for internationalization support.
User virtual directory, write permission, idle time-out and upload/download bandwidth limitation support.
You can monitor all the user activities.
Anonymous login support.
Both upload and download files are resumable.
Handles both ASCII and binary data transfers.
IP restriction support to allow/ban IPs.
Database and LDAP can be used to store user data.
All the FTP messages are customizable.
Implicit/explicit SSL/TLS support.
MDTM support - your users can query the date-time stamp of files.
"MODE Z" support for faster data upload/download.
Easy installation/update by Java Web Start technology.
Bonjour discovery protocol support.
System Requirements:




Sun Java 1.4+. If your system is not Java enabled, go get it, or get more help here.
During the launch, please agree with the Security Warning on Digital Signiture, and check always trust: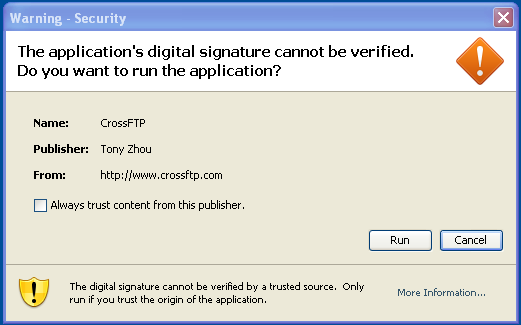 Download
~$javaws http://www.crossftp.com/crossftpserver.jnlp


Platform Independent Installation Package:
crossftp-all-bin.zip
Follow the readme.txt to run/deploy CrossFTP.
To run CrossFTP Server as a System service, please refer to this service page.
Documents: