CrossFTP - Google Storage Client
CrossFTP is a powerful Google Storage (GS) client for Windows, Mac, and Linux. CrossFTP makes it extremely simple to use Google Cloud Storage. It helps to do uploads, downloads, backups, metadata modifications, schedules, and synchronize Google Storage with ease. It is suitable for power users managing many Google Storage servers, as well as beginner creating his first site.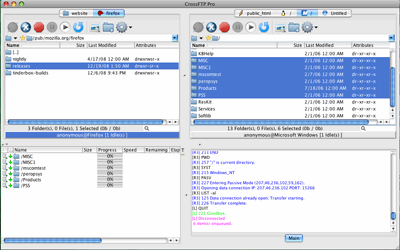 CrossFTP's key features:

Google Storage Support - Store files on GS with easy!
Batch Transfer - Perfect reliability guarantees trouble-free tasks.
MIME Types - Change the default MIME types for the files.
Previews with Zoom - Smoothly zoom and preview.
Mulitple GS accounts - manage sites in site manager.
Multipart download - (PRO) Make transfer fast and reliable.
Metadata Modification - (PRO) change the HTTP headers.
Previews with Zoom - Smoothly zoom and preview.
Edit Anywhere - (PRO) Edit any files in any app.
Turbo Engine - (PRO) Multi-thread enigne speed up your work!
Scheduling - (PRO) Put your transfer/sync tasks in plan.
Local Encryption - (PRO) Encrypt your files before transfer!
GZip Compression - (PRO) compress the data to save the bill.
Password Encryption - Protect the security of your account.
Search - Narrow a long list of files in your bucket.
Synchronization - (PRO) Synchronize local and GS data visually.
HTTP/Sock/FTP Proxy - (PRO) proxy and NTLM auth support.
URL - (PRO) Create public URLs to share the files.
Unbeatable Price - powerful FTP, FTPS, SFTP, FXP, WebDav, Amazon S3, Amazon Glacier, and Google Storage client!
and much more!
Awards & Reviews
Available Google Cloud Stoage Hosts
Google Cloud Storage is provided by Google Cloud Platform.