Please choose the license type you want to apply:
CrossFTP Pro/Enterprise | Upgrade to Enterprise | Evaluation License
CrossFTP Pro/Enterprise
CrossFTP Pro/Enterprise is available for a free 30 day evaluation. If you would like to continue using CrossFTP Pro/Enterprise after your evaluation, a CrossFTP Pro/Enterprise license must be purchased. The term of license is perpetual. It means you can forever use the version of CrossFTP Pro/Enterprise you have bought for.
CrossFTP Pro/Enterprise [Electonic License]: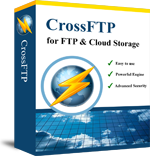 CrossFTP Pro Price: 24.99$
CrossFTP Enterprise Price: 39.99$
Includes premium support for CrossFTP Pro/Enterprise client.
Supports all major platforms - Windows, Mac, Linux, and Solaris.
Remove the limitations in the foundation version.
Buy with MyCommerce
* Permanent License per Computer
Payment
Credit card orders are processed immediately and the license key is delivered by email. After you place your order, you will receive a single serial number. Download CrossFTP and enter that serial number. You can then distribute copies of the application to the users covered by the license.
Payment Methods
Credit Card Online, Credit Card by Fax, Credit Card by Phone, Wire Transfer, Check in USD, PayPal, Bank transfer to local bank in local currency
Money Back Policy

for your peace of mind we offer an 100% unconditional 30 day money back guarantee on all CrossFTP Software purchases.
30 Day Evaluation License:
Simply get the evaluation license for CrossFTP Pro by filling the following form. The software will turn back to CrossFTP after one month's evaluation period.