---
FTP and FTPS Support
Add comment
Views: 12717

Votes: 1

Comments: 0
Posted: 19 Sep, 2009
by: Admin A.
Updated: 03 May, 2013
by: Admin A.
FTP is probably the most widely used file transfer protocol used to exchange and manipulate files over the computer network. FTPS is a secure file transfer protocol that extends the FTP with TLS/SSL secure layer to ensure the data's safe. Most web virtual hosts support the FTP as the main way for their site file management.
CrossFTP Pro supports the FTP and FTPS protocols, in which FTPS including FTPS/Implicit, FTPS/SSL, and FTPS/TLS.
To get a FTP account
If you do not have an FTP account yet, you can register a FTP account at host provider (such as Bluehost and Dreamhost), or you can create a FTP server on your own machine (e.g., CrossFTP Server is an easy to use FTP server).
After successful registration/creation of your FTP server, you will find your FTP server's host, port, user name and password.
To Connect to a FTP account
Create a new site in CrossFTP, and choose the Protocol field as FTP (default port is 21), or FTP secure protocol FTPS/Implicit, FTPS/SSL, and FTPS/TLS (default port is 443). After that, fill in the Host field with your server's host, and Port field with your port.
Enter your User Name field with user name, and Password field with password information, and press Connect to connect to the FTP Server. If your site uses anonymous login, just toggle the anonymous check box.
Setup your site's web URL (optional). If you want to preview your web pages, or copy the page's URL address, you can fill in the Remote Path field with your site page files' root path on your server (e.g., /public_html), and the Web URL field with your site's root URL (e.g., http://www.crossftp.com/). After that, you will be able to copy the page's URL, or preview the pages in your favorite web browser.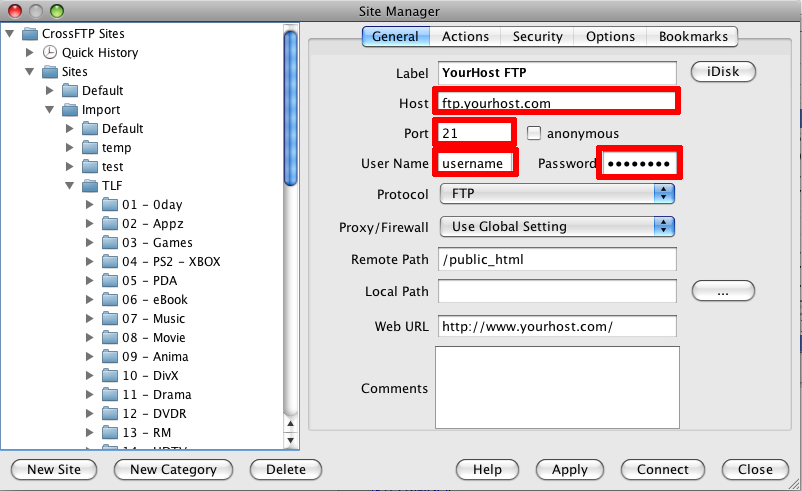 ---